The history behind Anshar Studios working for Larian Studios is pretty straightforward. It all began a few years ago at PAX. Larian Studios had its booth right next to Fool's Theory, who presented Seven: the Days Long Gone. They started talking about potential cooperation, and Fool's Theory realized that the project in question required 'more workforce.' We were co-opted to help, mainly because of our interest in the subject of isometric RPGs.
We can't share the details of the cooperation with Larian Studios for apparent reasons. Still, we can say that they are open to exchanging knowledge, and it surely helps us improve the quality of our future projects. Our latest finished undertaking is a series of Gift Bags for Divinity: Original Sin 2, which we created together with the Fool's Theory. The codename for this project was "Potato." Yeah, we know it's not as cool as some other names people tend to pick for their projects, but we liked it, and it stuck forever. After all, we think it was a cool codename – weird, mysterious, and.. very much Polish. Let's read what our team thought about working for Larian Studios on the beforementioned Gift Bags:
What was the project's scope?
Joanna Plaszewska [Associate Producer]: Game add-ons were created in cooperation with Fool's Theory from Bielsko, which invited us to participate in the project. Anshar worked on virtually all stages of creating Gift Bags: deciding what add-ons will be created and how they will work, programming and scripting new mechanics, creating levels, items, new characters and creatures that the player can meet in quests, preparing UI elements, visual and sound effects, scripting new quests and testing them.
What challenges did Anshar face?
Krzysztof Rosiński [Technical Director]: Probably the most significant challenge while working on this project was its size and complexity. Starting from the organization and maintenance of the versioning system, through the maintenance of the build system, understanding the process of creating a new UI and attaching it to the game, the complexity, and enormity of the code, tools, and available functionality – at the beginning, even small changes took a lot of time. With time, thanks to Larian's great support, we felt like fish in water, and each subsequent task went more smoothly.
Ania Łabęcka [Programmer]: Switching to working in such a big team and on a huge project. In the beginning, with every task, even seemingly small ones, we had to interview many specialists because it involved knowledge between their specialties. The fact that the game is already in the players' hands was also a challenge. We spent a lot of time adjusting our changes to avoid losing the game saves compatibility, or breaking something in the already existing part of the game. We didn't just mess with the content, but also the engine, the UI backend, the AI, or the crafting system. The entry threshold was certainly set relatively high, but working in such a close-knit and professional team became a  pure pleasure.
Marcin Rybiński [Creative Director]: From the designer's perspective, the biggest challenge was getting to know a completely different technology from what we were used to before. The editor and pipelines that Larian used were additionally enriched with a scripting language we had not dealt with before. It required a slightly different approach to creating things than we were used to.
Adam Szubert [Designer]: Due to the size of the game itself and the vastness and level of development of the mechanics included in it, we had something new waiting for us practically every day. On the one hand, we couldn't complain about boredom and routine. On the other hand, the sense of development and expertise in using available tools was relatively small.
In the beginning, it was quite a challenge to understand the rules of the scripting language provided by the engine. Most of the knowledge we drew from the publicly available official wiki, dedicated to modding the game, which unfortunately did not have perfect and complete documentation. Fortunately, all doubts could be dispelled with the programmer's help and a look at the actual implementation in the code. Although the engine's language was quite simple, you can do a lot once you get used to it.
In the case of the last of the gift bags, which was added as a "main" update to the game and is an integral part of it, not an additional content, we also had to take care of the right balance and level of performance so that it doesn't stand out from the rest of the content.

What was satisfying about this project?
Krzysztof Rosiński [Technical Director]: It gave us great satisfaction to add new and exciting mechanics to such a great game. We felt that we could enrich the players' experience and make them dive back into the rich world of the game.
Ania Łabęcka [Programmer]: I think it's when after brainstorming with both Larian Studios and our team, we reach a compromise, and the implementation got acceptance from all sides. The process of finding a solution always involved close cooperation between the programmer, designer, and graphic designer, and there was a feeling that we're all heading together "towards a bright future." We're all working equally hard on it. And, of course, the positive comments from players after the release – that's always the greatest satisfaction 😊.
Marcin Rybiński [Creative Director]: I believe it's the feeling of adding features to an existing and highly respected IP. Each new Gift Bag that was delivered to the players, caused a huge morale boost to everyone involved in the process.
Adam Szubert [Designer]: It was a lot of fun to work with the whole team when each of us was continually learning something new and at the same time being able to help the rest. It gave a sense of encouragement and struggling through challenges together.
The very possibility of developing such a great and widely loved game was a great experience. I also have positive memories from working with or discussing new ideas with Larian Studios.
It was also very nice to finally hear the voices of the characters we added in the last Gift Bag 🙂
What it was like to work with Larian Studios and Fool's Theory?
Joanna Plaszewska [Associate Producer]: Fool's Theory was responsible for preparing quest proposals, weaving them and new mechanics into existing lore, writing and cooperating with the localization team and Larian's VO team. Together we created the design and worked on scripting new mechanics. We also divided between us and Fool's Theory works on the concept art of new armor or preparation of selected graphic assets or promo art. Larian took care of all the work, supervised consistency with the story and visual style of the game and compliance with the guidelines for programming, level design, and creation of 3D graphics, approved subsequent stages of work, supported us in the operation of their proprietary engine.
With Fool's Theory, we organized regular project meetings, so the feeling that we were working in two different companies was blurred. Although working on the line Bielsko-Katowice was a little less convenient than within one office, but we got used to it with time.
What was the process of knowledge exchange? What did the team learn out of the collaboration?
Joanna Plaszewska [Associate Producer]: We have learned a lot, and it was a natural process. We had a lot to discover: getting to know another engine and a complete pipeline for 3d model production or the pipeline for writing game texts, translations, vo recordings, creating content consistent with the existing game, making sure that new mechanics do not interfere with the planned leveling of the game, the level of difficulty expected at a given stage, and not corrupting existing saves.
We also learned some things about the work mentality, like taking great care for dialogues, even with seemingly insignificant characters, learning to work with a studio that operates in several countries and works almost around the clock. That was exciting but provided a lot of experience we can use in our next projects.
Ania Łabęcka [Programmer]: In short – we took handfuls. First of all, the pipelines – not only in terms of providing models and graphics but also in cooperation between designers and programmers, division of labor, creating dialogues and quests. What works or can cause problems, especially when the team and the project grow dynamically. Although no one expected it when we started working, working remotely with Larian Studios prepared us a bit for pandemic realities – efficient online communication and remote access to necessary information. It was much easier for us to move to the home office.
What was the final output?
Joanna Plaszewska [Associate Producer]: Five gift bags were created, starting with the simplest one, containing only additional graphic assets used to change the character's appearance, through more complex ones dedicated to additional items, minor improvements, and new combat mechanics, The last gift bag, contained four full new quests, woven into the existing world.
Gift Bag #1 – "Character creation update"
New faces and hairstyles available for character creation
Gift Bag #2 -"Song of Nature"
Official mods (also available for console players) inspired by popular mods created by players.
Crafter's Kit
Plenty of new recipes and unique items to craft!
Endless Runner
Find a new icon in your Hotbar which you can use to toggle sprint on and off. Sprint increases your movement speed of your party and the movement speed of your followers.
Animal Empathy
Allows all player characters to talk to animals without having to spend a talent point. Also Changes Pet Pal talent to grant maximum positive attitude in all conversations with animals.
Fort Joy Magic Mirror
Manifests a Magic Mirror in the Arena of Fort Joy, along with a new Character Creation level. This allows you to respec before moving on to the next act of the game.
8 Action Points
Increases the base maximum Action Points of hero characters to 8.
Herb Gardens
Plant your own herb garden! Take any herb and combine it with a bucket to create a seedling. Then just place your seedling in the ground and watch it grow.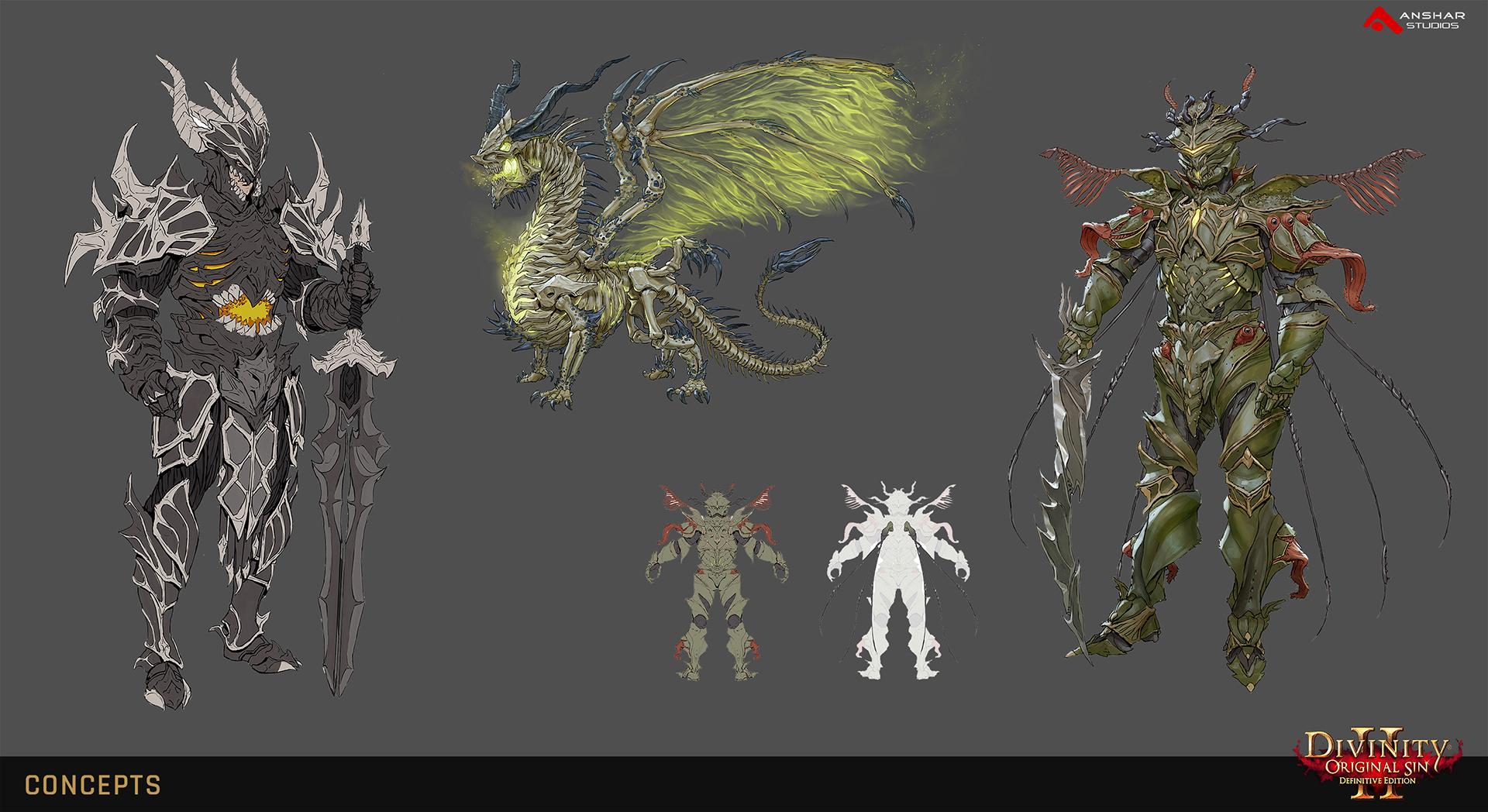 Gift Bag #3 – "Order and Magic"
Official mods (also available for console players) inspired by popular mods created by players:
Pet Power
Pet Power greatly enhances the summoning class and its infusion spells. With this feature, you can cast infusion spells on all available summons, not just your own Incarnate. Each summons receives different skills depending on the base elemental infusion type.
Combat Randomizer
When entering combat, one or more random enemies will receive one of the new special statuses created specifically for this feature. Think you know how a particular fight is going to go down? Not any more! This will change everything you thought you knew about combat, with each battle presenting a fresh new challenge.
Nine Lives (Black Cat+)
Transforms the Black Cat into a follower. Once rescued, a whistle will appear in your inventory. You can use this if your cat gets lost or if you want to change who it follows.
Improved Organisation
Find a collection of special bags that allow you to better (and automatically) organize your inventory.
Sorcerous Sundries
In each major hub, you can now find a mysterious vendor selling exotic and potent artifacts. These artifacts can upgrade a character's gear with immense power, bringing them up to the players' current level.
Hagglers
Tired of forgetting to switch to your 'haggling' character when talking to traders? Now the reputation and skill of your whole party can help you wrangle the best prices!
Gift Bag #4 – "Sourceror Secrets"
From The Ashes
Party members automatically resurrect when using the bedroll out of combat.
Source Meditation
Source Points are restored when using the bedroll.
Divine Talents
Adds several new talents to pick from during Character Creation or Character Respec.
Spirit Vision
Spirit Vision lasts forever and has a larger range.
Gift Bag #5 –  "The Four Relics of Rivellon"
You'll embark upon new quests in search of four ancient armour sets imbued with magical properties. You'll face new foes, fight brand new fights, and even take on an entirely new Undead Dragon boss. Discover new lore, new loot, and new narration on the hunt for distant relics
Captain Armour
A set of armour that can dominate the minds of those around you. Each piece also boosts Lucky Charm, Persuasion, and Bartering.
Vulture Armour
A light set of armour based on dwarven rituals. Each part of the set enhances range and damage dealt from higher ground, while the complete set gives the wearer a pair of permanent, vulture-like wings.
Contamination Armour
An ancient set of armour created from magic thought lost long ago. Each piece offers resistance to poison, while the entire set grants immunity to poison along with a special ability to spawn exploding spores that will damage enemies in combat.
Devourer Armour
A set of armour said to make its wearer almost invincible. In combat, the armour will mark a certain target in range. Any attacks on this target cannot miss and will deal extra damage.
That's a lot of team effort, and we're delighted to have such a fantastic opportunity to be working with the very best in the RPG industry.
Thank you for reading
– Anshar Studios – Potato Dev Team